BEST KITESURFING SPOTS IN EUROPE
We explored every corner of this incredible continent, embarking on a thrilling quest to find the best kitesurfing spots in Europe. And now, we're bursting with excitement to tell you all about these hidden gems!
Europe is a treasure of kite and wing spots, yet only a hand full have truly met our high expectations. These places boast outstanding conditions, wind statistics that'll make your heart race, pristine sandy shores, with a mix of flatwater and waves. Whether you're in pursuit of a tranquil sandy haven, shallow lagoons, adrenaline-pumping wave breaks, or tranquil flatwater, our ultimate guide has it all!
Your only mission? Selecting your dream spot, and we guarantee, it's waiting for you!
EUROPE TOP 10 KITE & WING SPOTS
1. Viana do Castelo, PORTUGAL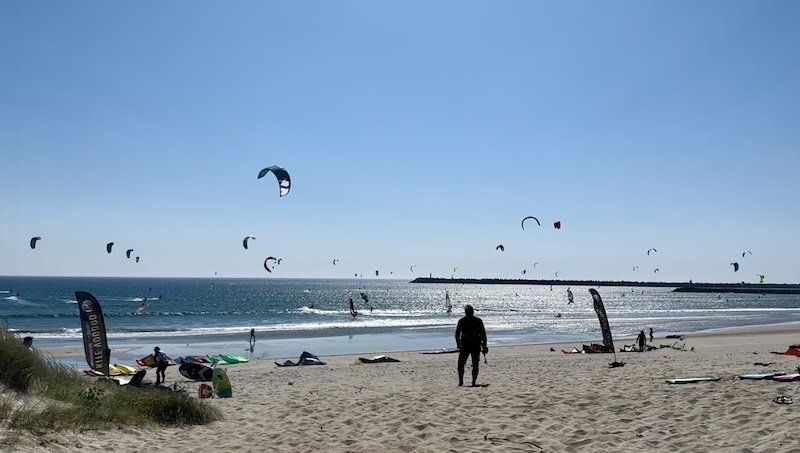 Our guide "The best kitesurfing spots in Europe" has to start with our favorite!
At the western edge of Europe, facing the Atlantic Ocean, you'll find Portugal. The entire country is a water sport haven with beautiful windy beaches all along its coast line, check out our article about the 10 best kitesurfing spots in Portugal!  
But Portugal's kitesurfing treasure is without doubt the spot "Praia do Cabedelo" in the iconic town "Viana do Castelo", best spot of Portugal. Easy to access, the city is located right next to the vibrant city of Porto, just a quick 45-minute drive. 
Our attention was quickly taken to this spot as soon as we discovered it! In fact, this beach is the windiest of Portugal and in one place you can find a great diversity of conditions, form flat water to small and bigger waves. And all of that on a stunning stretch of sandy beach ! 
The flat zone is upwind, protected by a pier, perfect for beginners or students. Then you'll find a small waves area and further downwind the waves gets bigger and promise super fun kitesurfing sessions.
About the wind, here's the inside scoop: From May to October, the Nortada wind sweeps along the Portuguese coast, plus Viana do Castelo benefits from an additional local thermal wind. Thanks to the Lima River and the lush hills that surround the area, this local wind kicks the breeze up, making it the windiest spot in all of Portugal. Picture an average of 20-30 knots—kitesurfers' paradise!
This is a perfect location for beginners to start learning kitesurf or wing as you can find several school along the beach. Also great spot to for foiling, wave riding and big air,  you will find easily all the gear you wish.
Viana do Castelo isn't just a top kitesurfing destination; it's also a beautiful, authentic, and vibrant city. You'll find many activities and sights to explore, whether you're unwinding after an epic kitesurfing session or on those rare windless days. Also, Viana boasts delectable cuisine (read our article about the best restaurants in Viana), bars, skate parks, wakeboarding facilities, scenic bike rides, picturesque walking trails and numerous cultural attractions. 
Consistent and strong wind, variety in conditions, plus a lot of extra activities and culture, all under the portuguese sun, this spot has it all, and so caters to all tastes and interests, offering the perfect blend of adventure and culture.
More info on the official portuguese tourism web site:…Click here…
Naxos, the crown jewel of the Cyclades, is where kitesurfing dreams become reality and takes our 2nd position in out Best Kitesurfing Spots in Europe guide. Thew kite spot with its promise of endless kitesurfing adventures in the heart of Greece, that leaves seasoned riders and beginners amazed is Mikri Vigla.
The sunny days on this island are your playground, with hot weather and turquoise clear waters, perfect for long kite sessions without wetsuit during summer. But what truly sets Mirki Vigla apart is the legendary Meltemi wind, strong, reliable and strengthen by the big venturi effect created between Paros and Naxos. It blows from May to September, across the Aegean sea, bringing you amazing time on the flat water paradise of Naxos island.
Yes, you read it right—flatwater. Mirki Vigla boasts a kite spot with a soft sandy bottom and pristine waters, offering the ultimate playground. Whether you're just starting your kitesurfing journey or a seasoned pro looking to master new tricks. You will find many kite schools restaurants to fullfill your kitesurfing holiday!.
Yet, there's so much more to Naxos than kitesurfing. There are many beautiful beaches shettled from the wind just around the corner from Mikri Vigla kite beach, perfect for families. Plus delight your taste buds with exquisite Greek cuisine at the local taverna, explore the rich local culture and immerse yourself in the island's captivating traditions.
3. Punta trettu, SARDAIGNIA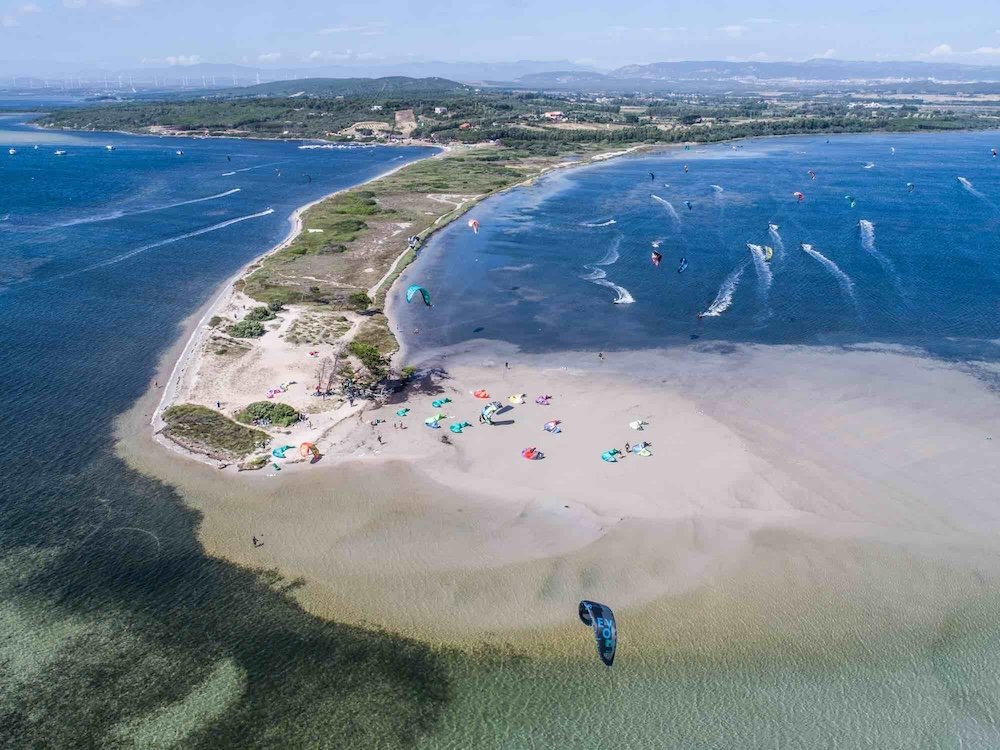 Sardinia, the captivating island of endless adventure holds, the 3rd place of best kitesurfing spots in Europe, and the key to a kitesurfing paradise in the heart of the Mediterranean.
From the northern shores to the southern tip, this Italian island offers an astonishing blend of hot weather, crystalline turquoise waters, strong and reliable winds, and a mix of flatwater and wave spots especially from October to April. 
We focus on Punta Trettu a hidden kitesurfing gem in the southern most part of Sardinia. The hot Sardinian sun meets the azure waters, while the consistent Mistral wind takes you on a thrilling ride. Punta Trettu's flatwater conditions are perfect for honing your kitesurfing skills, making it an excellent spot for both beginners and pro riders. Located in a natural reserve, camping is not autorized directly on the spot. 
As you explore this pristine corner of Sardinia, don't forget to savor the island's remarkable cuisine and immerse yourself in its rich culture.
Sardinia is more than a kitesurfing destination; it's a journey through a world of breathtaking landscapes, mouthwatering flavors, and vibrant traditions.
Welcome to Wissant, a thrilling kitesurfing spot on the picturesque Côte d'Opale in France. This enchanting coastal spot boasts not only breathtaking beauty but also a reliable wind that's renowned for delivering exceptional kitesurfing moments.
Wind in Wissant is powered by a unique meteorological phenomenon known as the "Ventury Effect." It occurs due to the natural funneling of wind between France and England, creating a wind corridor. The wind here is strong and consistently reliable, with side to side-on shore wind direction, making it a true gem for riders of all levels.
This beach is a stunning stretch of fine golden sand that runs for miles with cliffs in the background. You will find ample space for launching, landing, and practicing your kite skills. The wide sandy expanse ensures that even on busy days, there's enough room for everyone to enjoy their kitesurfing adventures without feeling crowded.
In Wissant, you'll find not just a kitesurfing spot, but a thrilling, wind-powered playground where adventure knows no bounds. For these reasons it is 4th in our guide "best kitesurfing in Europe. So, harness the wind, ride the waves, and embrace the excitement that awaits on the shores of Wissant. As if the strong and reliable wind and wide sandy beach weren't enough, Wissant is further enhanced by its breathtaking backdrop. The iconic cliffs of Cap Gris-Nez and Cap Blanc-Nez provide a stunning and dramatic landscape, making every kitesurfing session a visual masterpiece.
Welcome to Italy's best-kept kitesurfing secret, a hidden gem that's a paradise for kite enthusiasts. Grado, located on the country's northeastern coast, has strong and reliable wind, and became a magnet for riders.
Grado's unique geographic location adds to its allure. Nestled between the sea and the Marano lagoon, kitesurfers have the luxury of choosing between flatwater or wave riding. This lagoon, protected from the open sea, offers flat and shallow water, opening different kitesurfing opportunities.
This kitesurfing spot's reputation is built on one key element: the wind. The Adriatic Sea provides consistent, strong and reliable wind conditions, making it an ideal destination for riders of all levels. The prevailing wind, known as the "Bora," typically ranges from 15 to 25 knots. It sweeps down from the northeastern Alps, creating a reliable breeze that enthusiasts can count on almost daily during the kitesurfing season, which stretches from April to September.
This pristine sandy beach stretch is nothing short of perfect for kitesurfing. Its wide shoreline not only allows for easy launching and landing but also offers ample space for practicing your kite skills. The shallow waters near the shore provide a safe and beginner-friendly environment, while further out, the waters deepen to provide thrilling rides for more advanced riders. The flatwater conditions are excellent for freestyle moves and cruising, ensuring that Grado caters to a diverse range of kitesurfing interests.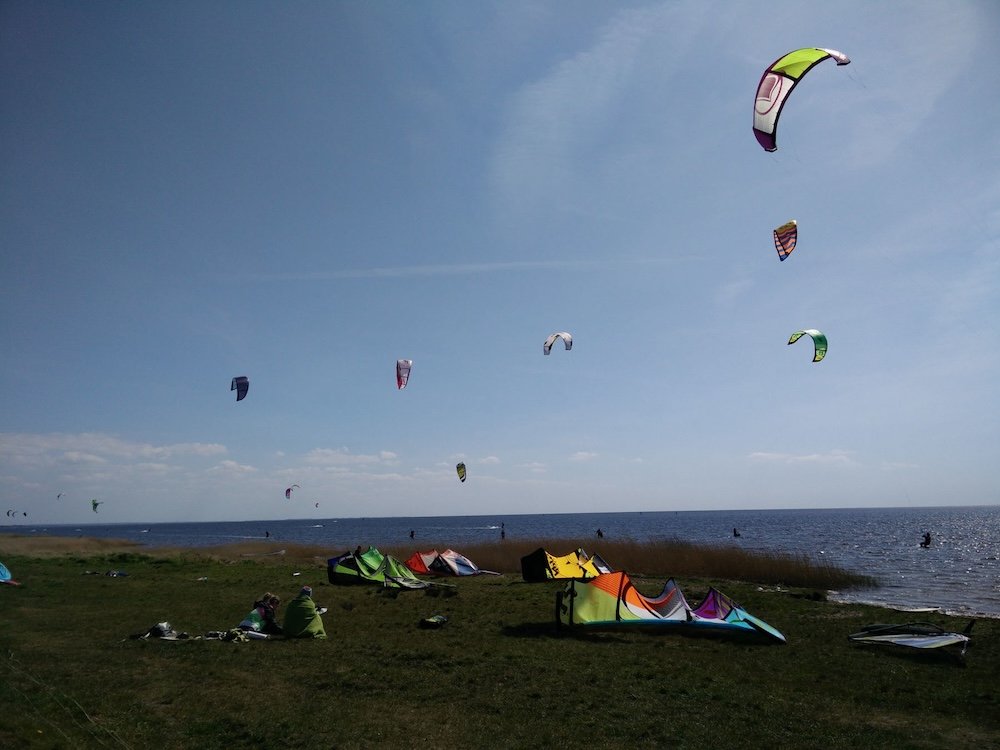 Nestled along the stunning North Sea coastline, discover "Kloster" located in Denmark (5th position  in our guide "best kitesurfing spots in Europe.), is a kitesurfer's delight that seamlessly blends consistent winds, dynamic wave conditions, and the enchanting allure of Scandinavian culture. This coastal gem attracts riders year-round, with the prime kitesurfing season unfolding from May to September.
Kloster has rightfully earned its place in our guide of the best kitesurfing spots in Europe, thanks to its consistent and exhilarating winds. The prevailing "North Sea Breeze" originates from the northwest and typically blows between 15 to 25 knots. you'll find perfect flat water on the lagoon but also dynamic wave conditions and scenic coastal beauty
Your kitesurfing experience will be enriched by its picturesque coastal setting. The North Sea, with its azure waters and waves. Close to the shore, beginners can refine their skills in the calm waters, while the more adventurous can venture further out to challenge themselves with larger swells. While Kloster offers a stunning natural setting for kitesurfing, it's crucial to note that camping directly at the kitespot is strictly prohibited. The area is designated as a natural reserve, and local regulations prohibit camping to safeguard the delicate coastal ecosystem.
Better be prepared for varied water temperatures. As the water temperature in Kloster varies seasonally, ranging from 10°C to 18°C. As such, wearing wetsuits is essential for a comfortable kitesurfing experience.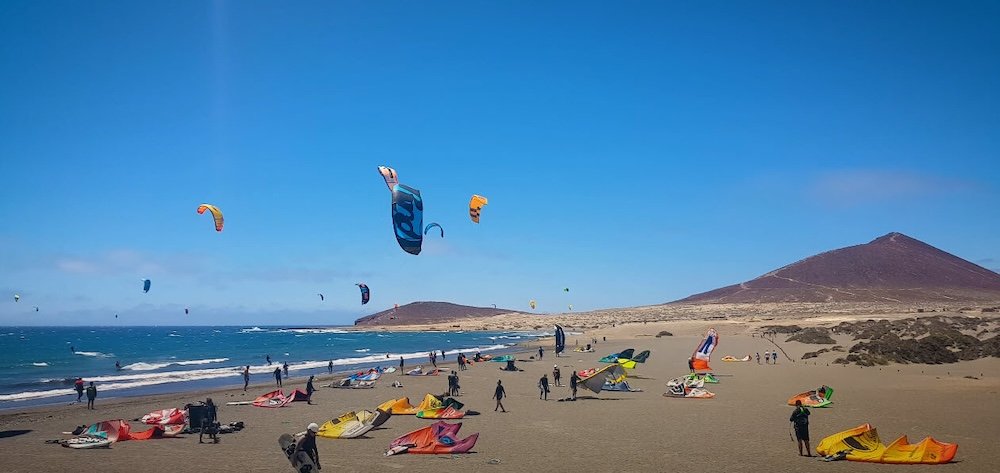 Welcome to Tenerife, known for its stunning landscapes, diverse climates, and captivating culture, this vibrant Spanish island has also gained recognition as a top kitesurfing destination.
El Médano is the kitesurfing jewel of Tenerife. If you're seeking an exhilarating kitesurfing experience amidst stunning landscapes and a vibrant island atmosphere, this is the place to be.

El Médano's kitesurfing reputation is firmly rooted in its wind conditions, robust and dependable all year round. The island benefits from two primary wind patterns: the trade winds and the local thermic winds. The northeastern trade winds provide a consistent breeze, with wind speeds typically ranging from 15 to 30 knots, plus the thermic effect further enhance the wind speed, creating a great windy spot.
Its exceptional wind statistics are the envy of kitesurfers worldwide. With approximately 80% of windy days throughout the year, you're almost guaranteed to indulge in your kitesurfing passion whenever you visit. El Médano's beaches are a kitesurfer's paradise. The long sandy shores are perfect for launching, landing, and honing your kite skills. The waters near the shore are shallow and safe, making it an excellent spot for beginners to learn. Further out, the conditions become more challenging, catering to advanced riders seeking exciting wave riding opportunities. El Médano is known for its "Playa de Leocadio Machado," where the flatwater offers a fantastic platform for freestyle moves and cruising.
8. Brouwersdam, NETHERLANDS
Brouwersdam, nestled along the stunning coastline of Zeeland in the Netherlands, is another kitesurfing paradise on our top Europe kitesurfing spots. With its picturesque landscapes, ideal wind conditions, and a vibrant kitesurfing community.
With prevailing southwesterly winds that sweep in from the North Sea, riders can count on steady breezes throughout the year. The wind speed typically ranges from 15 to 30 knots, creating the perfect environment for kitesurfing.
The kitesurfing season runs from April to October, making this spot a magnet for riders during these months. However, even during the off-season, dedicated kitesurfers can still enjoy the thrill of the sport thanks to the consistent wind patterns.
Given the North Sea's cooler temperatures, it's advisable to wear a wetsuit for comfortable riding. The water temperatures can range from 12°C to 20°C, depending on the season. Brouwersdam's sandy bottom and gradual depth increase make it particularly friendly for beginners, while experienced riders can relish in the occasional rolling waves that offer opportunities for impressive tricks and jumps.
Welcome to Ireland's hidden kitesurfing gem, where the rugged beauty of the Wild Atlantic Way meets the thrill of kitesurfing adventures. In the heart of County Kerry, you'll discover one of the most exciting kitesurfing spots in Ireland and in our selection of best kitesurfing spots in Europe—Brandon Bay.
Brandon Bay's kitesurfing prowess is driven by its strong and reliable wind, which ensures an unforgettable experience for riders of all levels. Located along the Wild Atlantic Way, this bay benefits from consistent westerly winds that are perfect for kitesurfing. The wind here typically ranges from 15 to 30 knots, making it a reliable destination for windseekers. With its constant and steady airflow, Brandon Bay promises a kitesurfing session like no other.
The Waves, one of the highlights of kitesurfing in Brandon Bay is the opportunity to ride thrilling waves. The bay is exposed to the mighty Atlantic Ocean, which means it boasts a wide variety of wave conditions. From small to massive, there's something for every wave rider here. Whether you're an experienced kitesurfer looking to conquer big waves or a beginner eager to get your feet wet, Brandon Bay has it all.
As you harness the wind and take on the waves in Brandon Bay, you'll quickly realize that this destination is more than just a spot—it's a kitesurfing adventure that's enriched by the warmth of the people and the wild beauty of the Irish coast. Whether you're a kitesurfing pro or just starting your journey, Brandon Bay invites you to experience the thrill of kitesurfing in an enchanting Irish setting. It's a place where adventure meets warm hospitality, and memories are made to last a lifetime.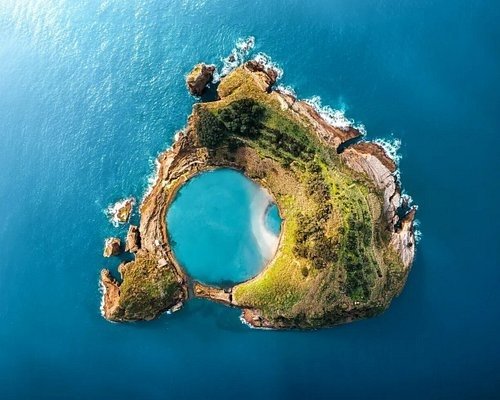 Welcome to the enchanting Azores, a paradise for kitesurfers tucked away in the middle of the Atlantic Ocean. This archipelago of nine volcanic islands is a kitesurfing haven waiting to be explored. With its ever-changing weather conditions, riders here need to be flexible and adventurous. But rest assured, this unpredictability is part of the charm.
The Azores are blessed with strong and reliable wind patterns that make it a dream destination for kitesurfers. The Azorean High, a subtropical high-pressure system, dominates the weather here, bringing consistent trade winds to the islands. These trade winds provide a steady breeze that ranges from 15 to 25 knots, creating excellent kitesurfing conditions. However, be prepared for a bit of wind variation from island to island, which adds an exciting twist to your adventure.
This place when the conditions allow it has it all, flatwater and also fantastic waves. Due to the archipelago's exposed location in the middle of the Atlantic, you'll encounter a wide range of wave conditions, from gentle to challenging. Experienced wave riders will particularly appreciate the versatility that the Azores provide, ensuring every kitesurfing session is an adventure.
Given the varying wind conditions between the islands and the need to chase the best conditions, many riders in the Azores opt for boat adventures. Chartering a boat allows you to explore different kitesurfing spots around the islands, ensuring you always find the perfect conditions. The archipelago's unique geography and its beautiful coastline make boat trips a fantastic way to experience the Azores from a different perspective.
As you embark on your kitesurfing adventure in the Azores, you'll soon discover that this destination is more than just a spot—it's an ever-changing, thrilling experience. From the strong and reliable winds to the diverse wave conditions and the warm-hearted locals, the Azores is an island paradise where kitesurfers can truly find their element. Be prepared to chase the wind, ride the waves, and embrace the adventure that awaits in the heart of the Atlantic.
KiteVoodoo´s favourite best kitesurfing spots in Europe
Our favourite kitesurfing spot out of this Top 10 European spots is without doubt "Viana do Castelo in Portugal" mainly for the quality and variety of the spot.
We hope this colorful mix of amazing spots will make you want to add some to your kitesurf bucket list!
Click here to discover: The 10 best kitesurfing spots in Portugal