THE 10 BEST KITESURFING SPOTS IN PORTUGAL
10 BEST KITESURFING LOCATIONS IN PORTUGAL
We must start this guide of "BEST KITESURFING SPOTS IN PORTUGAL" with the iconic city "Viana do Castelo" located at the northern part of Portugal, next to Porto, where you'll discover one of the best kitesurfing spots in Portugal. Situated on the picturesque long sandy beach and a quick drive from Porto and its international airport, this spot is incredibly accessible.
Here's the scoop: The Nortada wind sweeps along the Portuguese coast from May to October, and in Viana, there's an additional local thermal wind, thanks to the proximity of the Lima River and the lush hills that surround the area. This local wind amps up the strength of the breeze, making it the windiest spot in Portugal, with an average of 20-30 knots.
The spot features a long sandy beach, with one side sheltered from the Atlantic swell by a pier, offering a flat water area, perfect for beginners & the other side of the beach, offers medium to head-sized waves. This makes the spot a paradise for kiteboarding, kitesurfing, foiling, winging, and surf – suitable for everyone from beginners to pros!
Viana also offers many other activities for non-kitesurfers, good food, bars, skate parks, wake parks, bike rides, walking trails, a variety of water sports facilities, and many cultural visits. It's the perfect blend of adventure and culture!
Read our article about the Best restaurant in Viana do Castelo.
Esposende is located just south from Viana do Castelo. It boasts a perfect flat water lagoon, a rivermouth, and thrilling open ocean rides. This spot is nestled in the Cávado river delta, and while the northern wind may not be as vigorous as in Viana do Castelo, the south wind is your go-to option, especially for those super windy days in Cabedelo.
It´s lagoon, has a soft sandy bottom and shallow waters, it is a secure playground suitable for both beginners and more advanced kiters looking to master new tricks. But wait, there's more! If you're in the mood for some waves, just make your way to the ocean. The open beach, with its gentle sand dunes and absence of rocks, offers a safe environment. While the swells are more pronounced in spring and autumn, making it a magnet for intermediate and advanced surfers eager to ride the waves.
Getting to this kite beach is an adventure in itself. You can opt to cross the estuary by boat (many kite schools offer boat transfer services from the pier to get you to the beach), or you can embark on a roughly 2-kilometer walk to reach it. It's all part of the kitesurfing experience, offering a variety of conditions and adventures to enjoy
This is still a secret spot mainly knowned by the locals and must be on our best kitesurfing spots of Portugal! Murtosa, known as the green Venice, is located next to Aveiro, this is a reliable windy and flat water spot! This place is also known for its strong wind, with all year round riding conditions, perfect for kitesurf beginners and big-air enthusiasts ! Here you will find Club Nortada directly located open the spot with parking, camp ground, setup area and Adriano will for sure be able to give you all the best tips! This location is were the Portugese kitesurfing instructors are trained and passe there exams.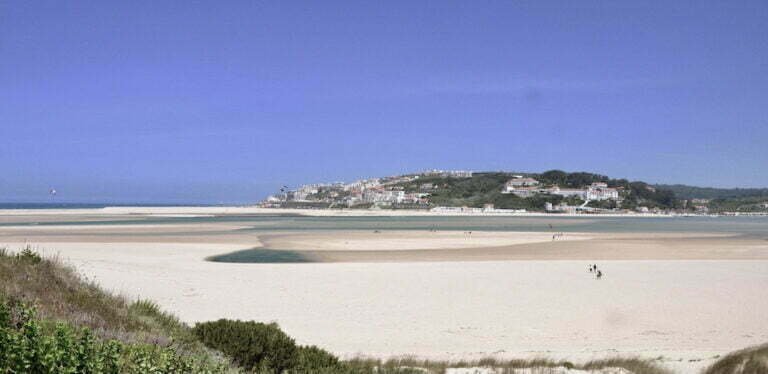 The Lagoon of Obidos is home to the largest saltwater lagoon in Portugal, and it's a beautiful! The lagoon boasts shallow water, waist-deep that are typically flat, occasionally offering a bit of chop. The wind is rather light so remember to bring your bigger kites (12 \ 14 m + size).
This spot is located 1h30 from Lisbon. The nature around the lagoon of Obidos is luxuriant with many other activities to enjoy on no windy activities days.
The lagoon can be divided into 2 areas. The first area is the estuary, the most beautiful part. This spot has two sides one is Bom Successo beach, located on the south (best side to ride, more untouched, very wide beach, best wind orientation and a cool café) and the other side, northern part is located Foz de Arelho (with big camper parking and a few restaurants).
Be aware while the conditions are excellent during the summer, you wont be allowed to ride on the sandy side of the lagoon facing the ocean (estuary) but you'll rather have to go further inland where kitesurfing is tolarated. Be carful there with little cactus growing all around the kite area and the beach is stony with sharp shells so bring shoe!!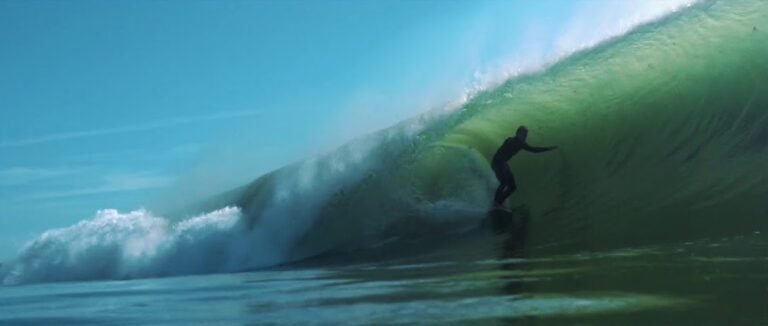 Peniche is the ultimate surfers' paradise, and the famous "Supertubos" is the go-to spot here. No matter which way the waves are rolling or the wind is blowing, Peniche has got you covered with its variety of beaches. When the northwest wind cranks up to over 15 knots at Óbidos Lagoon, you're in for some awesome wave action in Peniche.
The big bay between Peniche town and Baleal is the main hub for catching waves. It's a safe and super easy spot to get to with loads of accessible accommodation options. Plus, there are some cool beach bars nearby where you can chill and enjoy a nice cold superbock after your epic surf session.
Just ten minutes drive south of the bay, you'll hit Supertubos with its powerful waves. This spot is not for the faint of heart – it's not a beginners spot and more surf experts orientated. You'll need to be a confident kitesurfer with mad skills because the waves are powerful and the wind is side to side-off shore!
The famous spot "Praia do Guincho", in Cascais, has to be in our guide of best kitesurfing spots in Portugal. It is renowned for having strong and reliable wind. Count on it being windy, especially when other spots in Portugal may not be. This is why it is one of the best kitesurfing spot of in Portugal, but remember it´s not the easiest! Recommended for experienced kitesurfers.
The Nortada wind gradually gains strength throughout the day, often reaching strong wind speeds of up to 40 knots+ on summer afternoons. Its proximity to Lisbon, just half an hour away by car or public transport, makes it a popular spot. However, the beach is expansive, and the community is respectful, ensuring there's enough room to safely launch your kite.
Kitesurfing season at Guincho spans from April to October, with July and August standing out as the prime months. Guincho is exposed to northwest swells, so you can expect some decent waves (1-3 meters) on bigger days. The prevailing wind direction is sideshore.
In terms of weather, Guincho is slightly cooler compared to other spots in Portugal, with a maximum air temperature of around 28°C. The water remains on the chilly side year-round, ranging from 11-19°C.
It's a destination where you can enjoy consistent winds and waves against the backdrop of a slightly cooler climat.
You will find many restaurants and shops on this spot.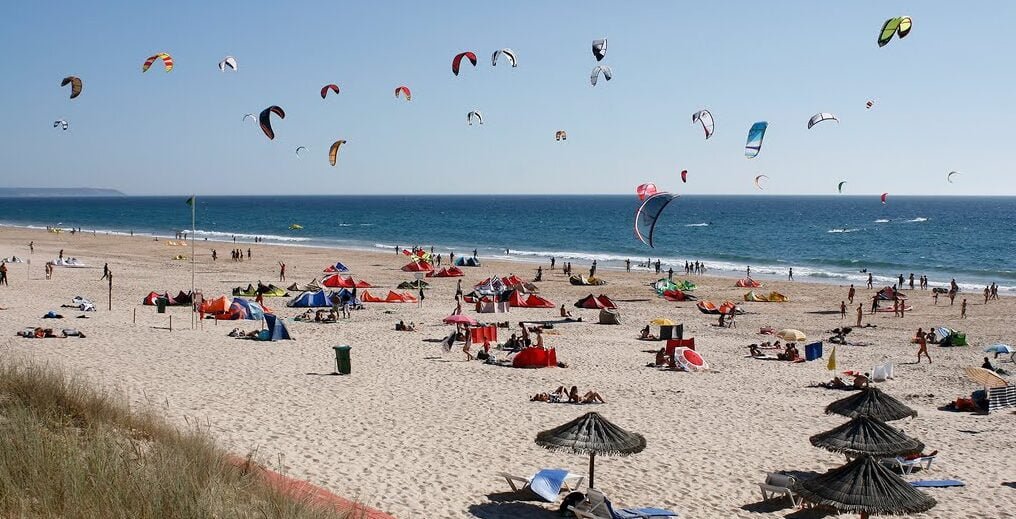 Costa de Caparica serves as Lisbon's go-to kitesurfing spot. It's a sandy beach with a shore break, and the water conditions can range from choppy to wavy. The wind here is typically on the lighter side, though you may get lucky with some stronger days, check the forecast before planning your kite session.
During the high season, it can get quite crowded. However, in Fonte da Telha, a sandy beach close by, you'll find smaller waves that are ideal for both beginners and more advanced riders. Surprisingly, this spot remains relatively uncrowded, making it a hidden gem just a stone's throw from Lisbon.
The prime kitesurfing season is from April through September, but kiting is a year-round possibility. In fact, this is one of the few places in Portugal where you can kitesurf during the winter months.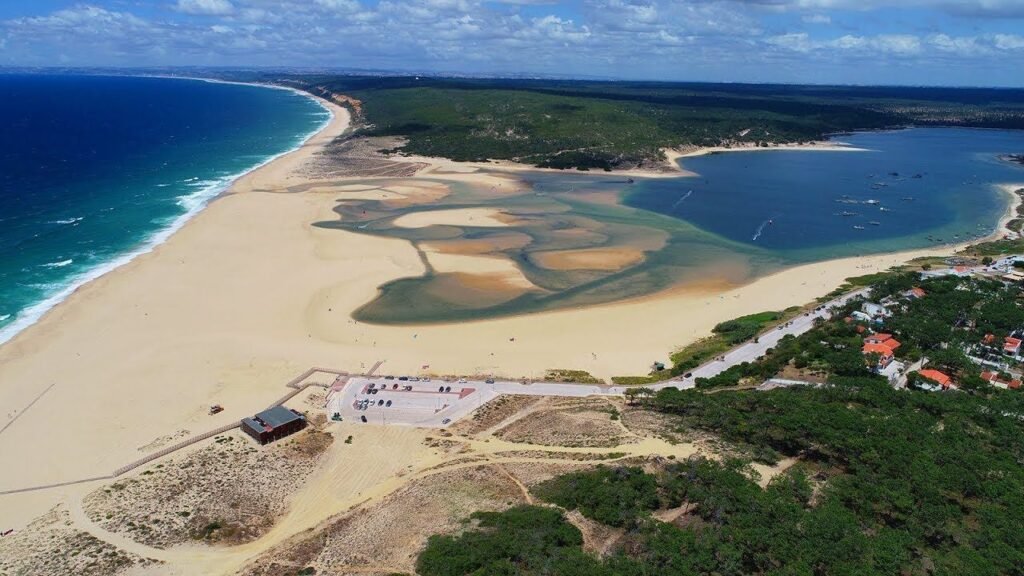 Portugal's coastline is like a treasure chest of kitesurfing spots, and one true gem is Lagoa de Albufeira, a stunning lagoon tucked away in Sesimbra. It's a wind lover's paradise, and what sets it apart is the perfect mix of a protected lagoon and the wide-open Atlantic, making it a dream come true for kitesurfers of all levels & located next Lisboa.
The wind at Lagoa de Albufeira is pretty much on point all year round, but the real sweet spot is from May to October. Why? Well, it's all thanks to those trusty North to Northwest thermal winds that dominate the scene. The wind usually hovers between 15 to 20 knots, which is just right for pulling off freestyle moves and cruising along in freeride style.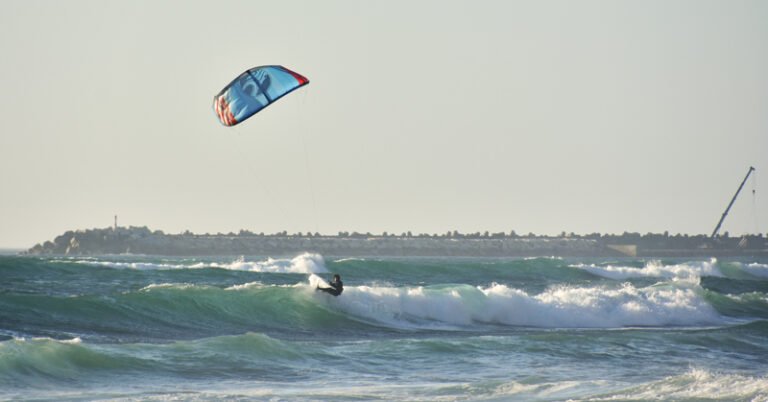 Ericeira is a charming little fishing village, located 30 minutes by car from Guincho and 45 minutes from Lisbon.
Life here is the sweet everything in Ericeira feels tranquil. You'll fall in love with its cobblestone streets, its promenade, its harbor, and the kindness of its residents. A must-try: the grilled octopus, a local specialty and a true delight.
For those who are passionate about riding the waves and want to combine kiteboarding and surfing, Ericeira is a small paradise. Just a 30-minute drive from Guincho, the town is surrounded by about ten world-renowned surf spots.
It's a goldmine of waves, and the thermal winds blow just like in Cascais. However, be cautious about kiteboarding there: the majority of the beaches, nestled in the cliffs of the coast, are risky for launching and landing kites. We advise against practicing kiteboarding around Ericeira (unless!) We recommend choosing Guincho, which is safer.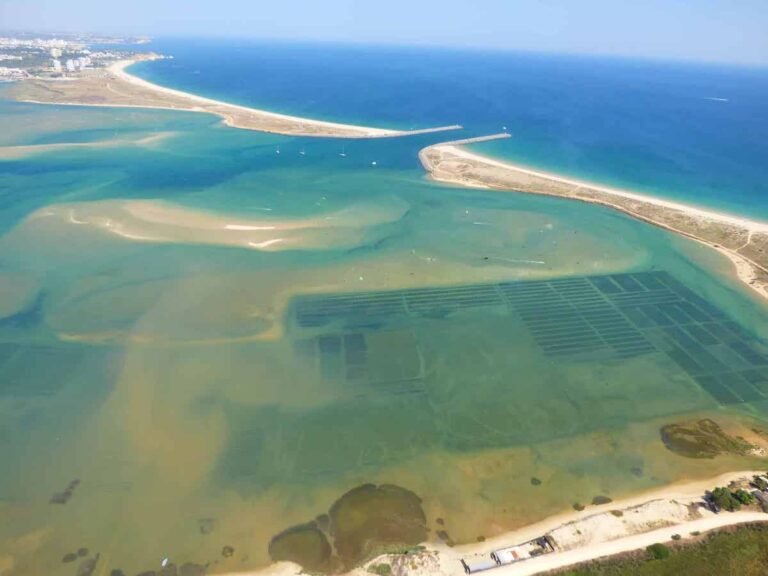 Southern Portugal boasts a variety of kitesurfing spots, and one of the most renowned is the Alvor Lagoon. Be aware the wind here tends to be very gusty and off-shore, not the safest for kitesurfing. This location offers flat, shallow waters, making it an excellent place to start learning kitesurfing. However, it's worth noting that the beach here can be quite shelly, so wearing surf shoes is advisable.
The Nortada wind typically kicks in around 3 pm and hovers around 20 knots. It often blows onshore/side-onshore within the lagoon, but this landwind can be somewhat gusty. Situated between Lagos and Alvor, at the end of Meia Praia Beach, the Alvor Lagoon is considered the top kitesurfing spot in southern Portugal and one of the premier places to learn kiting in Europe.
The lagoon typically offers perfectly flat conditions thanks to the presence of sandbars, although there may be choppy water at the rivermouth. It provides good conditions with any wind direction and is particularly favorable for beginners around mid-tide. Most of the lagoon features waist-deep water.
Kitesurfing at the Alvor Lagoon is possible year-round, although the best conditions are typically found between May and October. The wind is at its strongest between June and August, making this a prime destination for kitesurfers looking for consistent and reliable wind.
Generally during summer months from April to October, the wind direction is NW-N-NE and in winter it becomes the opposite wind direction SW-S-SE.
Check  the wind forecast here.
(keep in mind that in Portugal, the forecast underestimate most of the time  the wind strengh due to the strong thermic effect)
For us our favourite kitesurf spot out of these 10 best spots is without doubt "Viana do Castelo" with its fabulous vibes and huge amount of windy days, what a playground!
Click here to read more about Kitesurfing in Portugal and in Viana do Castelo.
We hope you enjoyed our guide: TOP 10 KITESURFING SPOTS IN PORTUGAL & that this colorful mix of amazing spots will make you want to add some to your kitesurf bucket list!