KITESURFING PORTUGAL YOUR DREAM SPOT PLAYGROUND
Looking for the ultimate kitesurfing & wing school, rentals, or storage in Portugal? Look no further than KiteVoodoo.

Plus, we've got all the tips and info you need for an epic kitesurfing experience in Portugal.
DISCOVER A KITE & WING DREAM SPOT !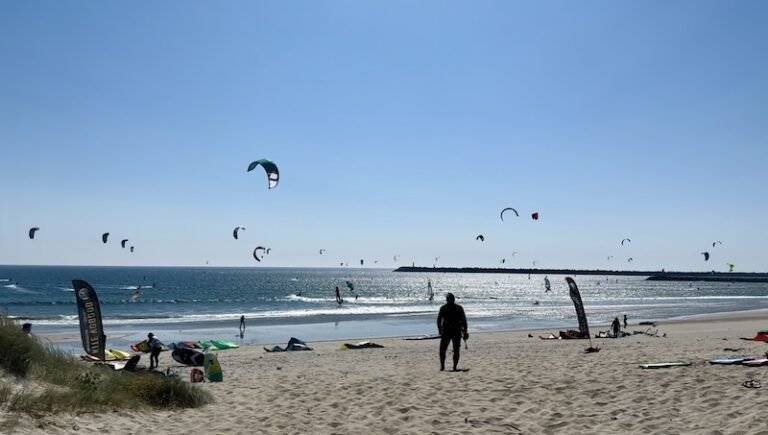 Discover amazing kitesurf in Portugal, especialy on the spot of Viana do Castelo. It's an absolute blast, thanks to its incredible conditions, steady wind, unspoiled beaches, and a flourishing kitesurfing community. To read more about kitesurging in Portugal, click here.
Whether you're a kiter in search of the ultimate conditions at a top-notch kitesurfing destination, or you're a beginner just starting out, enjoy the thrill of kitesurfing & winging along the picturesque Portuguese coast.
THE BEST KITESURFING & WING SCHOOL FOR ALL YOUR LESSONS
Join us at KiteVoodoo for an epic summer! Perfect for beginners to learn kitesurfing and wing foiling in a safe and unforgettable way.
We're a close-knit family of passionate riders with years of experience. Our key to success? Our dedicated and patient instructors. They're here to make your learning experience incredible. You'll get all the tips and knowledge you need to progress quickly and become an independent rider, ready to conquer any kind of water conditions. Plus, our instructors speak multiple languages, making communication easy.
Click here for more information about our school, lessons, camps and packages.
1 LESSON (2H) – 120€ 
2 LESSONS (4H) – 230€
3 LESSONS (6H) – 340€
1 LESSON (2H) – 75€/pers.
2 LESSON (4H) – 130€/pers.
3 LESSON (6H)- 240€/pers.
ELEVATE YOUR KITESURFING ADVENTURE WITH PREMIUM RENTAL GEAR
If you don't have your own gear yet or you simply don't want to carry your kitesurfing equipment with you…No worries, Kite Voodoo has you covered !
We're dedicated to ensure that you have access to the best gear. Our range of equipment includes high-performance boards, kites and wings to take your riding experience to the next level.
Click here for more informations about our rental service.
PRICING LIST FOR RENTAL SERVICE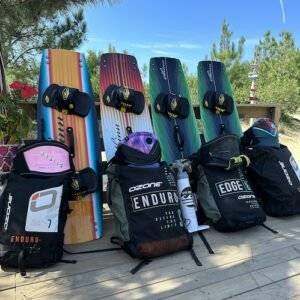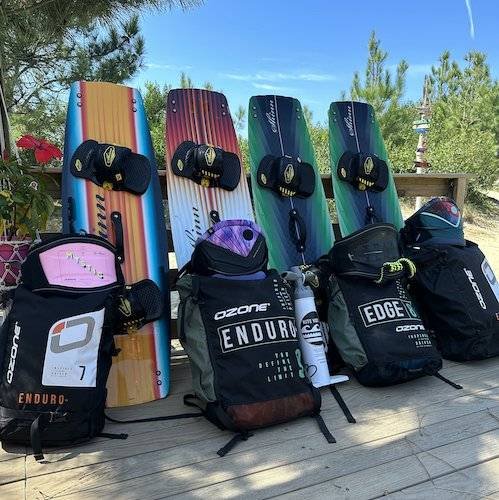 Wing 2H / 30€
Foil board 2H / 40€
MAXIMIZE YOUR WATER TIME AND ENERGY WITH CONVENIENT EQUIPMENT STORAGE
At Kite Voodoo, we're all about making your kitesurfing holiday as convenient and accessible as possible.
That's why we're thrilled to provide our guests with a storage and cleaning station right on the beach.
This means you can keep your gear safe, easily accessible whenever you're ready to go ride!
EVERYTHING YOU NEED TO KNOW ABOUT KITESURFING IN PORTUGAL
Why choose Portugal for your kitesurfing holidays ?
Portugal is the ultimate kitesurfing paradise! From north to south, you'll find many epic spots from Porto, Lisboa, and Faro.
What sets Portugal apart is the variety of riding conditions. Whether you're into flat waters, ocean waves, or choppy challenges, there is something for everyone.
And it's not just about kitesurfing! Portugal's rich culture and stunning landscapes will captivate you. Explore historic cities, savor amazing food, and soak in the beauty of golden beaches and rugged cliffs.
Plus the cost of living is friendly on the wallet, and flights are easy to come by from. So, why wait? Head to Portugal for your next kitesurfing adventure!
Where to kitesurf in Northern Portugal, near porto?
Just a quick hop north from the lively city of Porto, less than an hour's drive from the international airport, you'll stumble upon a kitesurfing paradise known as "VIANA DO CASTELO."
The go-to spot is "Praia do Cabedelo". This place is a total gem, with its vast sandy beach and epic riding conditions.
Also, You can enjoy some nice restaurants and beach bars by the beach, making the most of your time on this great kite location. Check out our selection of best restautants in Viana.
This Beautiful town offers exceptional natural conditions for a variety of watersports, including kiteboarding, strapless kitesurfing, foilboarding, wing foiling, and surfing.
The amazing features that sets this place apart is not just the thrill it offers, but also the safety it guarantees. Therefore on this large sandy beach, you won't find any major obstacles, treacherous shore breaks, or offshore winds, making it an ideal spot for riders of all levels.
Cabedelo Beach is a mecca for watersports, you've got a little something for everyone:
There's a flatwater area with at high tide loads of shallow water making it a great place to learn. This is perfect for beginners and also ideal for advanced riders looking to nail some freestyle tricks and catch some massive air.
And for those who crave wave action, you're in luck. Downwind from the flatwater area, there's a cool fun spot with small waves. Then as you head towards Kite Voodoo School, you'll find medium-sized waves. To finally, if you venture further downwind, finish with some daunting bigger waves for some serious shredding .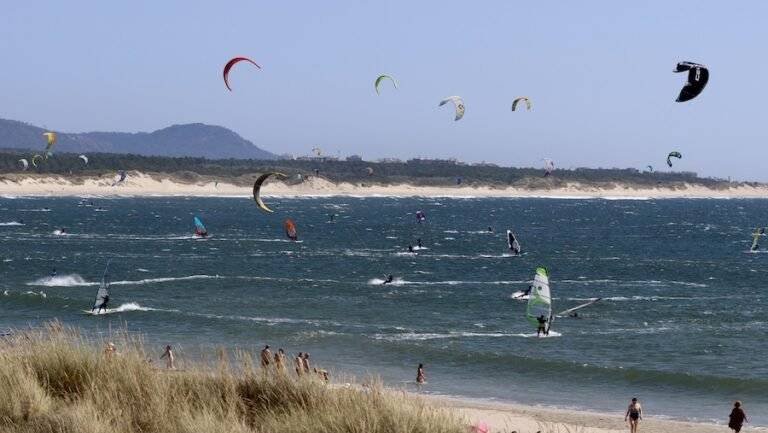 Nortada wind, which dominates the Portuguese Atlantic coastline, delivers awesome wind conditions for six whole months. Thanks to the natural surroundings that create a localized thermic effect, this reliable wind gains strength, making Viana do Castelo the ultimate spot for kite and wing lovers.
Now, here's a little secret: when it comes to wind, you can't always rely on the forecast. On a sunny Nortada day in Viana, you can expect an extra 10-15 knots beyond what the forecast predicts. 
That's why Viana is known as the windiest spot in all of Portugal!
KITESURFING SEASON IN PORTUGAL
Summer months: 
Nortada winds: NW – N – NE 
wind direction: side to side-on
Winter months:
Southern wind: SW – S – SE
wind direction: side to side-on
Summer months:
air temperature 20°C – 30°C
water temperature 16°C – 21°C
Winter months:
air temperature 5°C – 15°C
water temperature 12°C – 15°C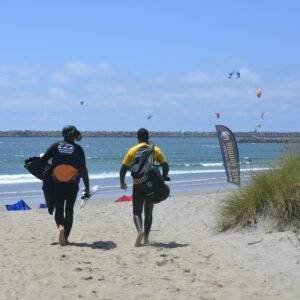 Why Choose KiteVoodoo School ?
Why Pick KiteVoodoo for Your Kitesurfing Lessons?
KiteVoodoo is the place to be for awesome kitesurfing lessons! 
We're located just steps away from the buzzing town of Viana do Castelo,  on the pristine sandy beach, praia do Cabedelo. It's the windiest spot in Portugal – perfect for those high-flying adventures.
Our certified instructors are pros, and they speak your language! They'll teach you every step of the way for you to become an independent rider with confidence.
Plus, we've got a flat teaching area, and if you ever need a hand, we've got a jet ski at your service.
Click here to read more about KiteVodooo school and lessons.
COMMUNICATION & EQUIPMENTS
For lessons we use walkie-talkies for real-time communication, instant feedback, and, most importantly, safety!
All our equipment is tailored to the specific needs of students, guaranteeing optimal performance and comfort throughout your learning adventure.
Come learn kite and wing with KiteVoodoo, your kitesurfing journey starts here!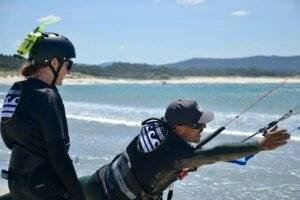 Our instructors speak a plethora of languages, including English, French, Portuguese, Spanish, German, Swedish, and Polish.
In addition, with certifications from the International Kiteboarding Organization (I.K.O) and the Portuguese Sailing Organization (F.P.Vela), they possess a wealth of expertise and several years of teaching and riding experience.
Indeed, these certifications  ensure the highest standards of safety, teaching quality and methodology.
Is kitesurfing hard to learn ?
Kitesurfing is not hard to learn, it all starts with finding the right kitesurfing school.
First, seek out schools with experienced instructors who can communicate in your language. Their expertise and the beginner-friendly equipment they provide are key to your success.
Certainly, learning kitesurfing or wing foiling is an inspiring journey. It's all about connecting with nature and the elements while living through thrilling and unforgettable moments. 
So, are you ready ?