KITESURFING PORTUGAL

SCHOOL-RENTAL-STORAGE
YOUR KITESURFING SCHOOL IN PORTUGAL
After kitesurfing and working in many countries across the world (Sri lanka, Greece, Zanzibar, Portugal) and having a school in Vietnam, we founded Kite Voodoo in Viana do castelo, a vibrant city in northern Portugal.
We found here the perfect home base with a large, sandy beach, great wind, with on one side a flat area and on the other side small to medium waves, a mixed of conditions adapted to everyone.
We created kite voodoo, a kite station and school, where we want you to feel like at home, where you can debrief after your lesson or session, share the passion, and also where you'll be sure that someone is checking on you while you are kitesurfing.
Come visit us on Cabedelo beach in Viana do Castelo for an amazing kitesurfing experience.
Join us for Kitesurfing in Portugal with Kite Voodoo school, rental and storage service, located only 45 min drive from Porto international airport, on the best and windiest kitesurfing spot of Portugal, Viana do Castelo. This spot offers amazing kiteboarding, kitesurfing, foil, wing and surf conditions, perfect for kitesurfing lessons from beginners to advanced and all the way to pro riders. Join us at this dream spot to ride, learn or progress !  We can provide you with all your watersport needs.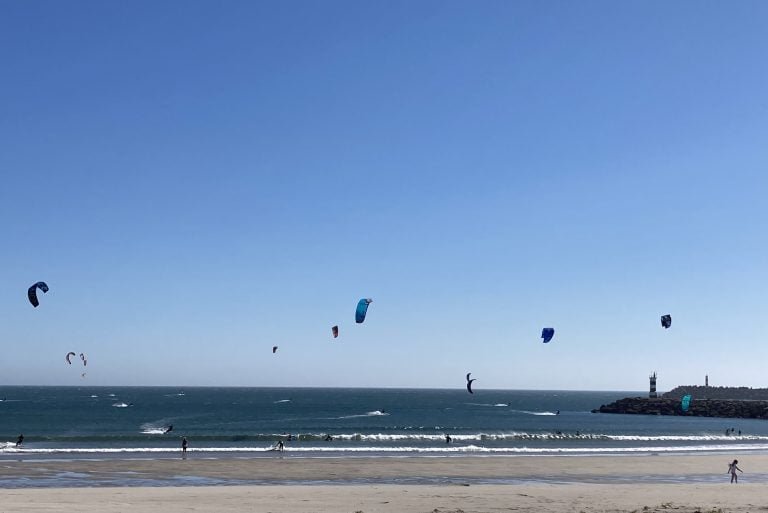 Our kitesurf spot is windy, very windy, especialy from May to October when the Nortada wind is blowing! Plus here in Viana, there is a local thermal wind that starts generally around 11-12am and builds up during the day, making this place the windiest spot in Portugal with an average of 20-30 knots !!! You will find amazing conditions here for kiteboarding, kitesurfing, foil, wing and surf. This is truly one of the best and most reliable kitesurf spots in Europe.
Kite Voodoo uses the latest equipment from Ozone & Mystic. Our school and rental service have the most performant selection of kites, boards, wings and foils for all your riding needs. We also provide new individual equipment as wetsuits, impact vests, harnesses and helmets so you are sure to stay comfortable and safe, while you learn, progress or ride with us at the best kitesurf school and spot in Portugal, Kite Voodoo !!!
All our team are experienced and certified instructors by I.K.O, the International Kiteboarding Organisation  (check more about I.K.O here), and/or by FPVELA the Portuguese sailing organisation (learn more about F.P.Vela here). Kite Voodoo is also a passionate and international team that can teach and speak several languages: English, French, Portugese, Spanish, German and Hungarien. 
Au top
C'etait une 1ere et la team nous a super bien accueilli, Jean etait à l'écoute et très pédagogue. Mathilde Gueganou
Plaisir et apprentissage!
Super d'avoir un enseignement en français! + + Accueil, communication et professionnalisme! Beaucoup de plaisir à vivre ces moments ! Elsa Forrer Courbet Switzerland
Feedback avec Jean
Super moment passés. Jean est un très bon instructeur, très sympa, très pédagogique et très patient. Une grande attention portée à la sécurité. Les prestations et le matériel sont top. Je recommande cette école et Jean, notre instructeur.

Good instruction
Had reached a stalemate in progress. Instructor quickly identified adjustments that enabled me to make good progress. Helmet,impact vest provided etc. Instructor had a good sense of when I was ready to go solo and skills to focus on. John Kennedy New Zealand
Kite gear, travel, tips & more...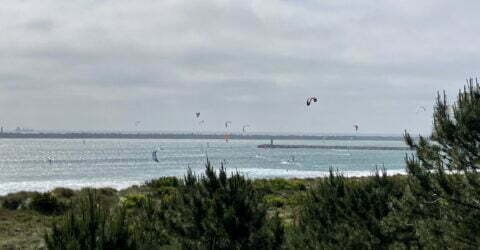 After visiting the best kitesurf spots from north to south of Portugal, we are happy to share them with you!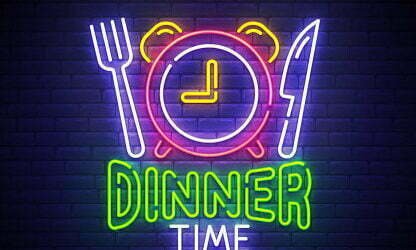 We selected our favorite and best restaurants in Viana do Castelo, so you can enjoy some local and great food after a kitesurfing day !
These are winds that occur and are regularly observed in a certain place due to certain local characteristics (usually the terrain). What is the difference
I.K.O WHAT IS I.K.O (international kiteboarding organisation) https://www.ikont.com KITE VOODOO is an I.K.O affiliated Kitesurfing school that follows IKO standards and teaching methods. We register all
VIETNAM KITE SAFARI 2022-2023
SOUTH COAST
Watersport & Cultural Holiday
Get ready to discover a country full of history, with an ancient culture, delicious food, happy people and the best kite conditions you can imagine, no matter your level…
14 Days | 3 Spots | Wind | Maximum Adrenaline & Fun Guaranteed!