The Best Festivals In Viana Do Castelo
As outdoor lovers we also love outdoor events like festivals! So we bring you our selection of The best summer festivals in Viana do Castelo.
Which Festival will you choose to be your next time out? Have Fun!
10 BEST FESTIVALS IN VIANA DO CASTELO
Nestled along the picturesque coastline of Northern Portugal, Viana do Castelo is not only known for its stunning landscapes, beaches and rich history but also for its lively and colorful festivals. Each year, the town comes alive with a tapestry of traditions, music, and celebrations that showcase its vibrant culture. Here are some of the best festivals in Viana do Castelo that you won't want to miss.
1.Romaria de Nossa Senhora d'Agonia(Pilgrimage of Our Lady of Agony):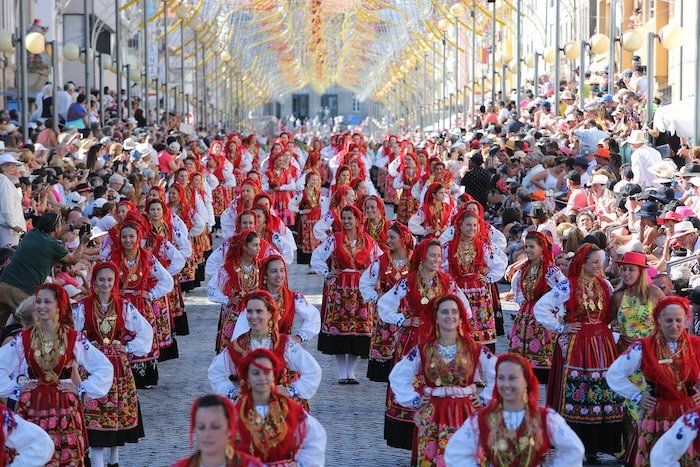 The Romaria de Nossa Senhora d'Agonia is Viana do Castelo's most famous and celebrated festival. Held in August, it's a vibrant and colorful event that blends religious devotion with cultural exuberance. The streets are adorned with intricate flower carpets, and the locals don traditional costumes, adding to the festival's visual splendor.
This multi-day event features processions, folklore performances, concerts, dance performances and a magnificent fireworks display are all part of this immersive experience. It's a fantastic opportunity to soak in the festive spirit and indulge in traditional Portuguese festa.
2. Viana Bate Forte (Music Festival):
For music lovers, the Viana Bate Forte music festival is a must-visit. This event, typically held in July, features an impressive lineup of national and international artists across various music genres. It's an opportunity to enjoy live music in a stunning outdoor setting, adding a contemporary twist to Viana do Castelo's cultural offerings
Step back in time during the annual Medieval Fair, where the town transforms into a medieval wonderland. Local actors and artisans bring history to life with reenactments, medieval markets, and a festive atmosphere. This event offers a unique opportunity to experience the town's medieval heritage.
4. Neopop Electronic Music Festival:
For electronic music enthusiasts, the Neopop Festival is an absolute must. This annual event takes place in Viana do Castelo and is known for its cutting-edge electronic music lineup. Neopop attracts both national and international DJs and producers, making it a prominent fixture on the electronic music festival calendar.
The festival showcases a diverse range of electronic music genres, from techno and house to experimental sounds. With its captivating light shows and impressive sound systems, Neopop promises an unforgettable audiovisual experience.
Dance the night away by the sea, under the starry Northern Portuguese sky, and immerse yourself in the pulsating beats of Neopop. The festival combines the beauty of Viana do Castelo's coastal setting with the energy of electronic music, creating a unique and electrifying atmosphere that's sure to leave a lasting impression. Whether you're a die-hard electronic music fan or simply looking to revel in the festival spirit, Neopop is the place to be for a transcendent musical journey.
5. Viana do Castelo Jazz Festival:
For lovers of smooth melodies and soulful tunes, the Viana do Castelo Jazz Festival is the perfect addition to your summer festival calendar. Typically held in July, this event brings together some of the finest jazz musicians and bands for a series of captivating performances.
The Viana do Castelo Jazz Festival takes advantage of the town's scenic settings, hosting open-air concerts that create a magical ambiance. Whether you're a jazz aficionado or just looking to unwind to the soothing sounds of saxophones and pianos, this festival offers a unique and relaxed musical experience.
With its intimate atmosphere and a lineup that features a blend of local talent and renowned jazz artists, the Viana do Castelo Jazz Festival is a delightful way to enjoy an evening under the stars, savoring the enchanting rhythms of jazz in this charming Portuguese town.
6. Holy Week Celebrations(easter):
Viana do Castelo's Holy Week celebrations are marked by solemn processions and religious events. The town's historical churches and chapels come alive with fervent prayers and traditional rituals during this significant period. It's a time when the town's religious devotion is most vividly on display.
7. Santos Populares (Popular Saints Festival):
Throughout the month of June, the streets of Viana do Castelo come alive with the vibrant Santos Populares, or Popular Saints Festival. This is a time when the town pays homage to three important saints: St. Anthony, St. John, and St. Peter.
The festival is marked by lively processions, colorful decorations, and a joyful atmosphere. The streets are adorned with lanterns, flowers, and garlands, creating a festive and enchanting ambiance. People dress in traditional attire, and the aroma of sardines being grilled fills the air as families and friends come together for street parties.
Music and dance are an integral part of Santos Populares, with traditional Portuguese folk music and fado performances. The highlight of the festival is the traditional "Marchas Populares" or popular marches, where neighborhood groups showcase their creativity and dance routines.
Santos Populares is a time of unity and celebration, where locals and visitors join in the merriment, making it a unique cultural experience in Viana do Castelo. The warmth and friendliness of the locals, combined with the festive spirit, make this festival a delightful celebration of Portuguese traditions.
8. São João (St. John's Festival):
June brings São João, a festival celebrated throughout Portugal. In Viana do Castelo, it's marked by lively street parties, traditional dancing, and the famous "martelinhos," small hammers used to playfully tap people on the head. Grilling sardines is a traditional part of the celebration, and you'll often find outdoor grills lining the streets, filling the air with the delicious aroma of cooking fish. São João is a time of joy and camaraderie, and Viana do Castelo's celebrations are particularly lively.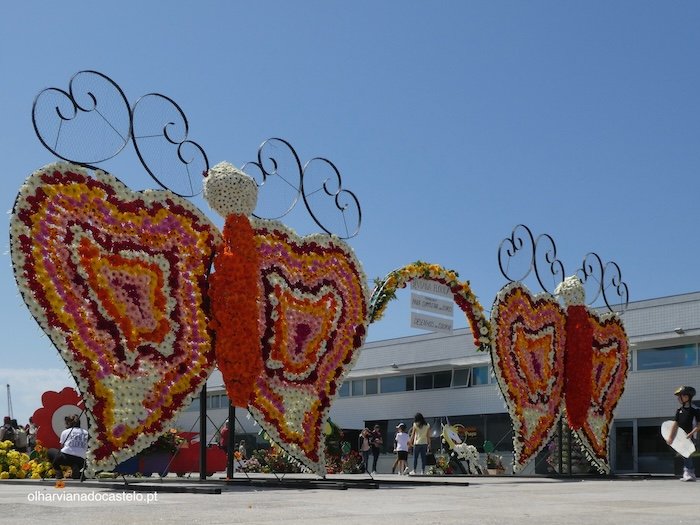 Embrace the blooming beauty of Viana do Castelo during the Flower Festival, a mesmerizing celebration of nature's vibrant colors and the town's artistic spirit. Usually held in the spring or early summer, this festival transforms the streets into a kaleidoscope of floral wonders, creating a magical and fragrant atmosphere.
One of the highlights of the Flower Festival is the creation of large-scale floral sculptures that grace public spaces. These sculptures showcase the incredible talent and creativity of the local community, depicting everything from mythical creatures to cultural symbols. Each piece is a masterpiece, contributing to the overall charm of the festival.
The Flower Festival not only celebrates the beauty of nature but also serves as a testament to the town's commitment to artistic expression and community collaboration.
Whether you're a flower enthusiast, a photography enthusiast, or someone seeking a delightful sensory experience, Viana in Bloom – Flower Festival promises a visual feast that transforms the town into a blooming haven, showcasing the harmonious relationship between art, nature, and community.
10. Feiras Novas (Ponte de Lima):
This one isn´t in Viana but a 30min drive away in Ponte de Lima the oldest town in Portugal! So, held in September, the Feiras Novas is another major festival that captivates both locals and visitors. It's a grand celebration of local culture and includes religious processions, traditional music, and dance performances. Bullfights, fairgrounds, and a grand fireworks display add to the excitement.
KiteVoodoo´s favourite festival
Viana do Castelo's festivals are a testament to the town's rich cultural heritage and its vibrant community spirit. Whether you're drawn to religious traditions, music, dance, or historical reenactments, there's a festival in Viana do Castelo that will capture your heart and immerse you in the region's authentic culture. Our favourite Festival in Viana do Castelo is the NEO-POP and its intense electro music! we hear it from the beach while we ride !
Click here to discover: The 10 best kitesurfing spots in Portugal.