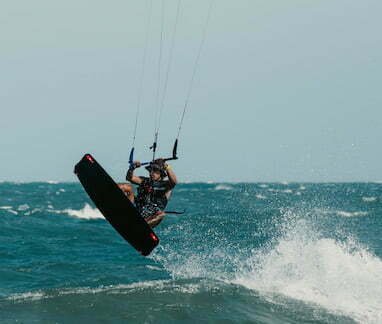 2 students / 1 kite –  price/pers
At Kite Voodoo our instructors are trained & certified by IKO (international kiteboarding organisation) or FPVELA (portugeese sailing federation). We teach by following these international standards and lessons program.
Our kiteboarding lessons will teach you all the basics of handling and flying a kite, all the safety procedures, and how to be an independent rider.
 Discovery (4h) : Kite control + Body drag
 Intermediate (6h) : Water start + start riding
Independent (12h) : Ride both side + being independent
Depending on each person it takes from 6h+ to stand up on the board and ride both sides independently and safely. Please note that the lessons plan and length are based on typical progression, individual results may vary.
We provide you with everything you need to ensure you have a fun and safe lesson out on the water:
impact vest, helmets, wetsuit, latest foil boarding gear and wing are included.
On a typical wing surfing lesson your instructor will teach how to:

Join the new foil boarding revolution and learn how to fly over the water making the most of light winds.
On our kite foil lessons you will learn the basics to foil independantly.
 You contact us with the contact form, or by email or by phone
We send you a confirmation email within 48H (check your spam box)
You will be contacted the day before your venue after 20h (time of the last forecast update) to check with you the program and the exact time of the lessons depending on wind conditions and your availability.
In July and August each reservation need a deposit of the amount of the first lesson to be finalised (you can do it by bank transfer to the bank details we will send you by email)
If deposit is needed, we contact you back once the deposit is effective to confirm your booking
Au top
C'etait une 1ere et la team nous a super bien accueilli, Jean etait à l'écoute et très pédagogue.
Mathilde Gueganou
Plaisir et apprentissage!
Super d'avoir un enseignement en français! + + Accueil, communication et professionnalisme! Beaucoup de plaisir à vivre ces moments !
Elsa Forrer Courbet Switzerland
Feedback avec Jean
Super moment passés. Jean est un très bon instructeur, très sympa, très pédagogique et très patient. Une grande attention portée à la sécurité. Les prestations et le matériel sont top. Je recommande cette école et Jean, notre instructeur.
Anne Collomb
Good instruction
Had reached a stalemate in progress. Instructor quickly identified adjustments that enabled me to make good progress. Helmet,impact vest provided etc. Instructor had a good sense of when I was ready to go solo and skills to focus on.
John Kennedy New Zealand